Parish Records - More Information
W.P. Phillimore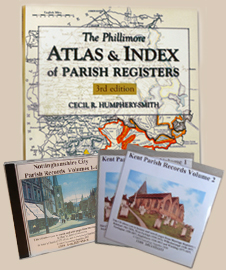 W.P. Phillimore, born William Phillimore Watts Stiff, was the son of Dr Stiff, a Nottingham Doctor. He later took the name Phillimore from the family of his grandmother. While educated as a lawyer, he was also a publisher of books. In later life, he began to transcribe marriage registers, which he later printed in book form. When he died in 1914, he had covered 1200 parishes from different counties in 200 volumes. He founded Phillimore & Co. Ltd in 1897, which have been publishing British local and family history for over a century.
Phillimore Parish Records
Phillimore Marriage Records are a series of books published in the late 19th and early 20th centuries by Phillimore & Co. Ltd. They cover marriages from various parishes from each county, however there may be some omission as some of the registers have not survived. In some counties, the coverage of parishes is very good, whereas in other counties just a few parishes were transcribed - most counties do not have every parish transcribed.
Records Available Online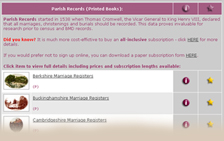 Transcribing parish records is a mammoth task but with the aid of both volunteers and overseas transcribers a growing number of records are available online. These records are in the form of searchable databases of Baptisms, Marriages and Burials. Where granted permission, there is also the image of the original page available with the transcript.
Currently, the Parish Records are available both on CD and online, and are searchable by surname, forename, date, and the church/parish. New Parish Records are currently being added online.
Click here to view Parish Records online, or go to TheGenealogist.co.uk.
Online Searches & Examples
Searching for an ancestor in an online Parish Record is simple - these online records are in a searchable database, which makes your family history research quick and easy. All you need to do is put in the search terms, choose a Parish if you know it, and click search.
Example Search - John Smith in Kensington, London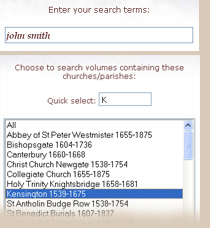 For this example, I will be searching for John Smith of Kensington, London. Firstly, I needed to put in my search terms and the volume I wished to search. (See image to the left). I got three results in Kensington, and chose this one: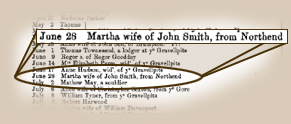 After clicking on the magnifying glass to view the page, I was presented with the results of my search - a view of the original page with my search term highlighed.
These particular results showed that John Smith's wife, Martha, was buried on June 28th 1666, and that she was from Northend.
Using this result you can search for other records - if a marriage record you found was near a census year, for example, you could find out where your ancestors lived at that time - you could also see if they moved, which could lead you to more family.